Vermont Webcams
---
"If you don't like the weather, wait a few minutes."
This old Vermont expression describes the typical weather found in Vermont.
Select a town to view detailed weather conditions:
---
If you know of a webcam we should include in this list, please contact us!
NOTE: If the image is black or you don't see an image at all, the provider may be experiencing difficulties with their webcam. Refresh the page to see if the most recent image will appear.
---
This image refreshes approximately every 3 seconds.
Smugglers Notch, VT.
Presented by Smugglers' Notch Resort


---
Refresh this page to see the most recent image
Smugglers Notch, VT.
Presented by Smugglers' Notch Resort


---

Refresh this page to see the most recent image
"Madcam" - Waitsfield, VT.
Presented by Mad River Glen


---

Refresh this page to see the most recent image
"Practice Slope Madrace" - Waitsfield, VT.
Presented by Mad River Glen


---

Refresh this page to see the most recent image
Stowe, VT.
Presented by Stowe Mountain Resort


---

Refresh this page to see the most recent image
Bird Feeder Cam - Huntington, VT.
Presented by Birds of Vermont Museum


---

Refresh this page to see the most recent image
NorthWoods Stewardship Center - East Charleston, VT.
Presented by NorthWoods Stewardship Center


---

Refresh this page to see the most recent image
LSC Meteorology Web Camera (East View) - Lyndonville, VT.
Presented by Lyndon State College


---

Refresh this page to see the most recent image
LSC Atmospheric Sciences Web Camera (Northwest View) - Lyndonville, VT.
Presented by Lyndon State College


---

Refresh this page to see the most recent image
Coles Pond Weather Cam - Walden, VT.
Presented by Robert Lyons Photography


---

Refresh this page to see the most recent image
North Hill. Intersection of VAST Corridor Trails 127A and 127B - Ludlow, VT.
Presented by Ludlow Side Hill Cronchers Snowmobile Club


---

Refresh this page to see the most recent image
Twin Valley High School - Wilmington, VT.
Presented by Twin Valley High School


---

Refresh this page to see the most recent image
Shrewsbury, VT.
Presented by W1EQX


---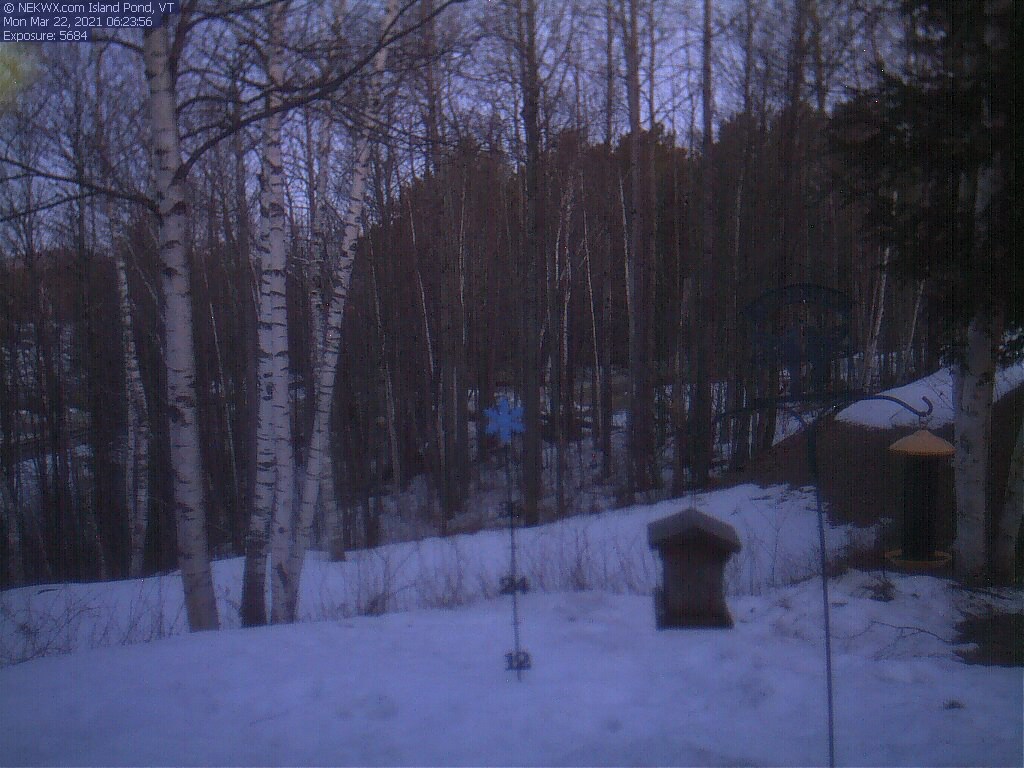 Refresh this page to see the most recent image
Island Pond, VT.
Presented by NEKWX


---

Refresh this page to see the most recent image
Central Campus at Middlebury College - Middlebury, VT.
Presented by Middlebury College


---

Refresh this page to see the most recent image
Davis Family Library at Middlebury College - Middlebury, VT.
Presented by Middlebury College


---

Refresh this page to see the most recent image
Middlebury College Snowbowl - Middlebury, VT.
Presented by Middlebury College


---

Refresh this page to see the most recent image
Rikert Nordic Center - Middlebury, VT.
Presented by Middlebury College


---

Refresh this page to see the most recent image
Lincoln Peak Base Area - Warren, VT.
Presented by Sugarbush Resort


---

Refresh this page to see the most recent image
Vermont State Capitol - Montpelier, VT.
Presented by National Life Group


---

Live Webcam - Montpelier, VT.
Presented by Woodchuck Central


---

Refresh this page to see the most recent image
Burlington, VT.
Presented by WCAX-TV


---
POLITICAL SPOTLIGHT
* Governor Peter Shumlin

* Senator Bernie Sanders

* Senator Patrick Leahy

* US Rep Peter Welch
State House Videos

More Government
---
---
Tweets by @Vermontcom